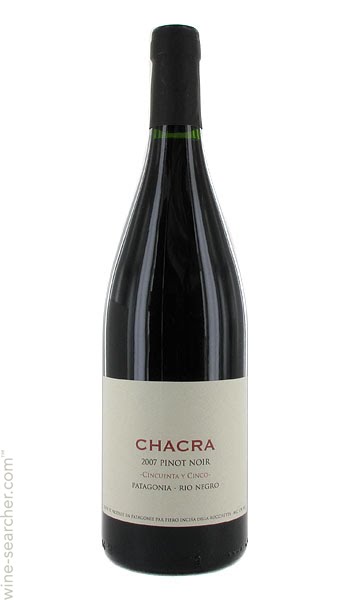 BodegasChacra Cinquenta y Cinco Rio Negro Pinot Noir 2007 0.75
---
Bodega Chacra Negro Rio Patagonia Argentina
Founded by the grandson of famous Marchese Mario Della Rocchetta (founder of Saasicaia), Piero Incisa in Patagonia in Argentina. It is officially registered bio-dynamic. 
Highly recommended by world renowned wine guru Jancis Robinson.She said this is hte first first of Argentinian Pinot Noir to collect.
大名鼎鼎的西施佳雅創始人馬里奧因賜撒的孫兒皮艾羅,在阿根庭袙他干尼亞建立的酒莊。是正式註冊的生物動力學酒莊。享譽全球的葡萄酒權威珍西施羅賓信說過,如果要收藏南美洲的黑品諾,首選茶卡拉。
Vintage 年份:
2007
Country Origin 原產地: 
Rio Negro, Patagonia, Argentina
黑水河,袙他干尼亞,阿根庭
Varietal Grape 葡萄品種:
100% Pinot Noir
100% 黑品諾
Punching aroma of blackberry and gooseberry. Well balance and good structure. It is a single vineyard wine of vine planted in 1955. Lots of minerals.
撲鼻的黑莓醋栗香,結構均衡。產自1955年種下的葡萄藤,礦物質豐富。 
---
Share this Product