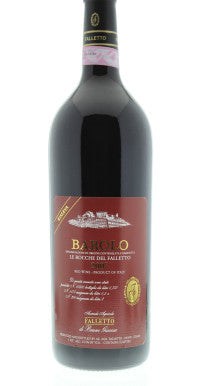 Bruno Giacosa Bruno Giacosa Barolo Riserva Le Rocche del Falletto 2007 布魯諾 賈科薩 巴羅洛 法特萊
---
The story starts in a simple way, with the native varietals of the Langa and Roero regions and vineyards cultivated with loving care. It continues with pure, meticulous vinification, with ageing in grand oak barrels and with unforgettable Reserves. But it also includes, naturally enough, the choice not to bottle those mediocre vintages deemed unworthy of vinification. 
Bruno's art encompasses passion and clear judgement but, above all, the utmost respect for his product, its admirers and for the beautiful countryside where he and his family were born and raised.
The Azienda Agricola Falletto Winery comprises twenty hectares of vineyards within the Serralunga d'Alba, La Morra and Barbaresco areas. The vine growing and wine making processes are followed through with care from beginning to end, culminating with vinification and ageing within our cellars in Neive. 
Some of our wine is produced with grapes grown by those farmers who have always worked our winery and whose prestigious vineyards truly deserve the 'Bruno Giacosa' label.
故事的開頭很簡單,朗加和羅埃羅(Langa and Roero)地區的本地品種葡萄在葡萄園得到了精心培育。之後,又經過純粹辛勞的釀造,在特級橡木桶中精心醇化,最後變成了讓人難忘的陳釀。但是,這同樣也包括了,自然之極,不選擇灌瓶那些看起來不具備釀造價值的年份佳釀。
布魯諾的藝術包括激情和純粹的判斷,但是,首先是要最大程度的尊重他的產品,其愛慕者和他家人出生成長的美麗鄉村。
法特萊酒莊由位於塞拉倫加(Serralunga d'Alba)、拉夢羅(La Morra)和巴巴羅斯科(Barbaresco)地區的十二公頃葡萄園組成。葡萄生長和佳釀釀造過程從頭到尾都傾注了細緻的照料,最後的釀造和醇化都在我們位於納威(Neive)的酒窖中進行。
我們一些佳釀所用的葡萄都是由那些一直為我們酒莊工作的葡萄農種植所得,或者來自一些著名的足可以對得起"賈科薩布魯諾"商標的葡萄園。
Vintage 年份:
2007
Country Origin 原產地:
Italy – Barbaresco 義大利-巴巴羅斯科
Varietal Grape 葡萄品種:
Nebbiolo 納比奧羅
Tasting Note 鑒賞:
Good bright full red. Tight, high-pitched aromas of raspberry, spices, smoke and dried flowers. Initially much less sweet and open than the Faletto classico but dramatically gained flesh with air while retaining superb precision. Very deep wine but dominated by its spine today. Tannins are very suave. Offers superb depth of texture but today the classico is more floral and high-pitched. 
明亮飽滿的酒紅色, 緊而有高亢香味的覆盆莓, 香料, 煙霧和乾花. 起初這款酒比起 法特萊經典 是不太甜和開闊, 但顯著在空氣中得到了肉質的感覺,同時保留非常好的精確度 非常深厚的酒但是由它的主要元素來主宰它的味道. 丹寧是很溫文爾雅而提供濃厚的一流質感但今天的經典是更有花香和高亢的口感
Critic's Rating 專家點評:
RP 98
---
Share this Product
---
More from this collection