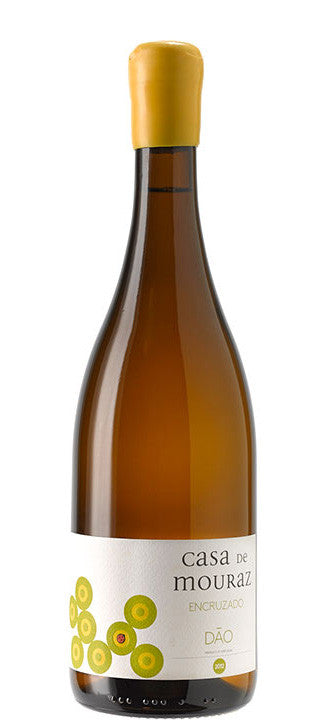 Casa de Mouraz "Encruzado" Dão DOC White Wine 2012
---
Casa de mouraz
Mouraz, situated in the heart of Dão region, is António's birth place, where his family have farmed vineyards in a holistic and ecological way for many generations. This is also a place where the landscape and terroir is shaped by its people and geography, old and new vineyards coexisting with the pine, oak, chestnut and cork trees in a wild forest. This diversity is reveals itself in the personality and complexity of the CASA de MOURAZ wines, and reflects their own love of the place.
Their farm is spread over several parcels with different soils (granite and clay) and altitudes ranging from 140 to 400 meters. Our most important indigenous grape varieties are Touriga Nacional, Tinta Roriz, Alfrocheiro, Jaen, Baga and Água-Santa for the red wines and Malvasia-Fina, Bical, Cerceal, Encruzado and Alvarinho for the whites.
Casa de mouraz酒莊
Mouraz,坐落在 杜奧產區的心臟地帶,是安東尼奧的出生地,他的家族數代都在此地以全面,生態的種植方式養育葡萄園。這片土地的景觀和風土是由它的人民,地理所塑造,新老葡萄園與松樹,橡樹,栗樹和軟木樹在此共存。 這種物種多元化在Casa de mouraz葡萄酒的個性和複雜性中得到了展現,也反映了他們對這片土地的熱愛。
他們的農場分佈在幾個不同的片區,來自不同的土壤(花崗岩,粘土),海拔範圍是140米至400米。 本地葡萄品種豐富,用於釀造紅葡萄酒的主要有國產杜麗嘉,羅麗虹,阿弗萊格,哈恩,巴嘉和阿瓜桑塔,釀造白葡萄酒的則有菲娜瑪爾維薩,碧卡,賽希爾,恩克莎多,阿瓦里諾。
Vintage年份:
2012
Country Origin 原產地:
Portugal 葡萄牙
產區
Dão DOC 鄧茵
Varietal Grape 葡萄品種:
Encruzado
恩克莎多
Tasting Note 鑒賞:
Flowers and citrus, soft but refreshing, elegant and fine.
有花和柑橘的氣息,柔軟而清爽,優雅而精緻。

Critic's Rating 專家點評:
50 Great Portuguese Wines USA/Joshua Greene Selection USA
喬舒亞格林甄選最佳五十款葡萄牙紅酒 美國
---
Share this Product
---
More from this collection