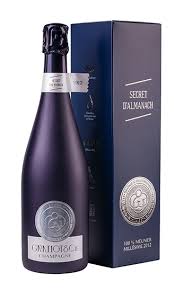 CHAMPAGNE GRATIOT & CIE SECRET ALMANACH BRUT 2012 0.75 格拉茲奧 神秘阿滿娜
---
Champagne Gratiot & Cie
History of Gratiot can be tracked back to 1868 when founder Marie-Desire started growing 1.5 hectare of vine  and sold as white wine. His passion on growing good quality grapes won acclaims from his peers as well as the award of prestigious diploma of the Concours Agricole de Paris in 1899 .
Now as the fifth generation, Remy take pride to patrol his 18 hectare of 7 villages of 42 plots of vineyard on a weekly basis. He uses Pinot Meunier as the ambassador of the village of Charly to elaborate the terroir to the world.
歷史可追溯至1868年,建基人馬里笛斯雷培植1.5傾的葡萄園並出售白葡萄基酒。因為他的精耕細作,極高質量的製作贏得同儕的稱頌,也贏1899得巴黎農藝大賽。
傳到今天第五代的瑞米,他堅持每星期都親自巡視她的18傾,7條村的42塊不同土質的葡萄園。他以粉品諾葡萄作為灑麗村的大使,向全球演繹該村的風土。
Vintage 年份:
2012
Country Origin 原產地: 
Saulchery , Charly - Vallee sur Marne- Champage - France


Varietal Grape 葡萄品種:
100% Pinot Meunier  100%
One single grape variety, the Meunier. One village, Saulchery, One year, 2012. Champagne House reinterprets the inherent codes for a great «Blanc de Noirs» (white from black grapes) by adding 2 cl Meunier grape juice, the perfect blend between the fullness of a wine and the purity of the dosage. A champagne with delicate notes of fresh fruits and almonds. A unique character !
秀雪莉區單一莊園、粉品諾葡萄、2012單一年份,用2cl鮮葡萄汁做最後"餵藥"工序,讓飲家盡享純天然的美味。細膩的新鮮果香夾有杏仁清香。十分有個性的一瓶全新演繹的黑中白香檳。
黑中有細  滋味繾綣

---
Share this Product
---
More from this collection