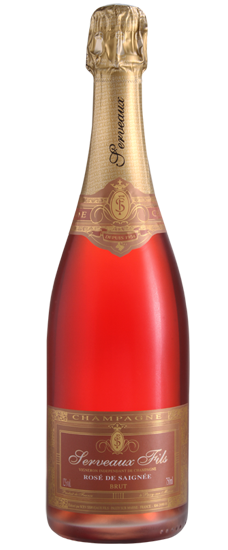 Champagne Serveaux Brut Rose De Saignee-Cru 塞弗極干血紅玫瑰香檳—放血法釀造
---
Serveaux Brut 
Equally attached to ancestral values, the Serveaux family makes champagne according to the same precepts and practices of their forebears, the secrets of which have been haded down over the generations. Every stage in the vinification process is carried out on the estate, from pressing and the first fermentation through to bottle fermentation, riddling and disgorging. Nicolas and Pascal Serveaux have succeeded in astutely combining time-honoured techniques with modern technology. If every one of their champagnes is unique, it's because Serveaux's Family have long-since discovered the secret of the relation between Man and Nature at that most critical of moments blending.
塞弗家族
秉承塞弗家族祖傳的價值觀念,塞弗家一直沿襲祖先的家訓世代相傳的秘方釀制香檳。釀酒過程的每個步驟,包括榨汁、首次發酵、瓶內發酵、旋瓶沉渣、除渣都是在莊園內自家進行。尼古拉斯及巴斯科塞弗精巧地配合了經得起時間考驗的傳統工藝,以及現代先進科技。每瓶塞弗的香檳都別具個性,全因為他們家族在拼配香檳的關鍵時刻中,早已表現了人與自然的微妙關係。
Vintage 年份:
N.V.
Country Origin 原產地:
VALLEE DE LA MARNE 香檳 (馬恩河谷)
Varietal Grape 葡萄品種:
Pinot Noir and Pinot Meunier 黑品諾和粉品諾
Tasting Note 鑒賞:
Beautiful vivid ruby color; bouquet of fruit and spring flowers; nice focus palate with velvety structure; powerful aromas of red fruit dense raspberry, Morello cherry and predominance of raspberry.
佳釀呈美麗生動的紅寶石色,酒香中有著水果和春花的芬芳,美妙集中的口感有著生動的結構,勁道的香氣中有著紅果濃郁的樹莓香、莫利洛櫻桃香和樹莓卓越的香氣。
---
Share this Product
---
More from this collection