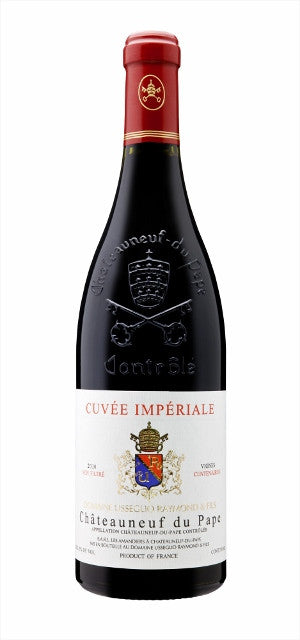 Raymond Usseglio Chateauneuf Du Pape Cuvee Imperiale Rouge 2010 雷蒙鄔釋格裡奧兄弟酒庄教皇新堡帝皇配方紅
---
Raymond Usseglio
In 1931, an Italian Francis Usseglio left Italy and went to Chateauneuf du Pape in France. He started his own winery in 1948. Domaine Raymond Usseglio was found in 1963 by one of his son, Raymond Usseglio, who share a similar reputation of his brother, Pierre Usseglio. Since 1999, the Domaine has been running by Raymond's son, Stephane, who is in charge in the cellars and the vineyard. Traditional winemaking is now embroidered with new ideas, a little new oak, and laudable ambition. In 2012 the Domaine started conversion into agriculture biologique.
雷蒙鄔釋格里奧兄弟酒莊
1931年,意大利人法蘭西.鄔釋格里奧離開意大利前往法國教皇新堡地區,並於1948年建立自己的釀酒廠。雷蒙鄔釋格里奧兄弟酒莊由他其中一個兒子雷蒙於1963年成立,與他兄弟皮雅的酒莊齊名。雷門的兒子史提芬自1999年開始主理酒莊,管理酒窖及葡萄園。傳統釀酒法遇上新思維,混合新橡木桶及值得鼓勵的野心。2012年起,酒莊更開始改用有機方法種植葡萄。
Vintage 年份:
2010
Country Origin 原產地:
Chateauneuf Du Pape 教皇新堡
Varietal Grape 葡萄品種:
90%格納殊,10%混合料的老葡萄樹
90% Grenache, 10% MIXTURE OF OLD VINES
Tasting Note 鑒賞:
The blockbuster 2007 Chateauneuf du Pape Cuvee Imperiale (90% Grenache and 10% other authorized varietals) comes from a vineyard planted in 1902. Aged 80% in tank and 20% in small wood barrels, it may be the finest wine I have yet tasted from Raymond Usseglio. This exquisite offering is Burgundian-like in its floral minerality mixed with dense kirsch liqueur and garrigue notes. Full-bodied, sensationally rich, and large-scaled as well as fresh, vibrant, and precise, this sensational effort can be drunk now.
在1902年, 來自種植在葡萄園釀造了轟動一時的2010年教皇新堡皇家的特酿(90%格纳殊,10%其他授權品種)。現年80%的酒罐 和20%的小木桶,它可能是最好的酒我從雷蒙鄔釋格里奧兄弟酒莊嚐到。這款精緻的葡萄酒提供了花香與礦石櫻桃的口味。這 緻密櫻桃甜酒和註釋混在一起。令酒體感到飽滿而感覺上非常豐富,新鮮,充滿活力,和精確的口感此,現在已經可以喝
Critic's Rating 專家點評:
Pt:99
---
Share this Product
---
More from this collection