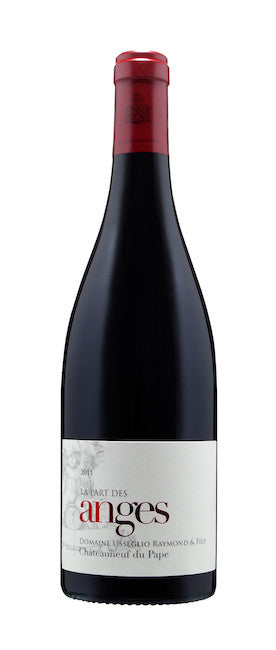 Raymond Usseglio Chateauneuf Du Pape Part Des Anges Rouge 2011 雷蒙鄔釋格裡奧兄弟酒庄教皇新堡天使偷紅
---
Raymond Usseglio
In 1931, an Italian Francis Usseglio left Italy and went to Chateauneuf du Pape in France. He started his own winery in 1948. Domaine Raymond Usseglio was found in 1963 by one of his son, Raymond Usseglio, who share a similar reputation of his brother, Pierre Usseglio. Since 1999, the Domaine has been running by Raymond's son, Stephane, who is in charge in the cellars and the vineyard. Traditional winemaking is now embroidered with new ideas, a little new oak, and laudable ambition. In 2012 the Domaine started conversion into agriculture biologique.
雷蒙鄔釋格里奧兄弟酒莊
1931年,意大利人法蘭西.鄔釋格里奧離開意大利前往法國教皇新堡地區,並於1948年建立自己的釀酒廠。雷蒙鄔釋格里奧兄弟酒莊由他其中一個兒子雷蒙於1963年成立,與他兄弟皮雅的酒莊齊名。雷門的兒子史提芬自1999年開始主理酒莊,管理酒窖及葡萄園。傳統釀酒法遇上新思維,混合新橡木桶及值得鼓勵的野心。2012年起,酒莊更開始改用有機方法種植葡萄。
Vintage 年份:
2011
Country Origin 原產地:
Chateauneuf Du Pape 教皇新堡
Varietal Grape 葡萄品種:
70 % MOURVÈDRE 20 % GRENACHE 10 % SYRAH
70%慕懷特 20% 格納殊10%施赫
Tasting Note 鑒賞:
The 2011 Chateauneuf du Pape Cuvee La Parte des Anges is a blend of 70% barrel-aged Mourvedre and the rest Grenache and a little bit of Syrah. Tight and oaky, it needs additional time in the cellar before it reveals its true personality. It is certainly high on potential, but it is nearly impossible to break through the veneer of tannin, structure and acidity to find what is underneath. The 2011 is more forward and open-knit than the 2010, exhibiting sweet forest floor, spice box, and blue as well as black fruit notes in its luxurious, full-bodied personality.
2011年的教皇新堡的特釀的天使偷紅 是一個融合了70%桶歲的慕懷特和剩下一點點的格納殊和施赫。緊及橡木,它需要留在地窖裡更多的時間才能夠揭示其真正的個性。當然,這酒是擁有很高的潛力,幾乎是不可能通過尋找下方貼面的單寧,酸度和結構來突破。 2011年的特釀更是比2010年具前瞻性來用在參展甜美的林地上,香料盒,並可以來顯示它的奢華,濃郁的個性的藍色以及黑色水果香味。
Critic's Rating 專家點評:
Pt: 95
---
Share this Product
---
More from this collection