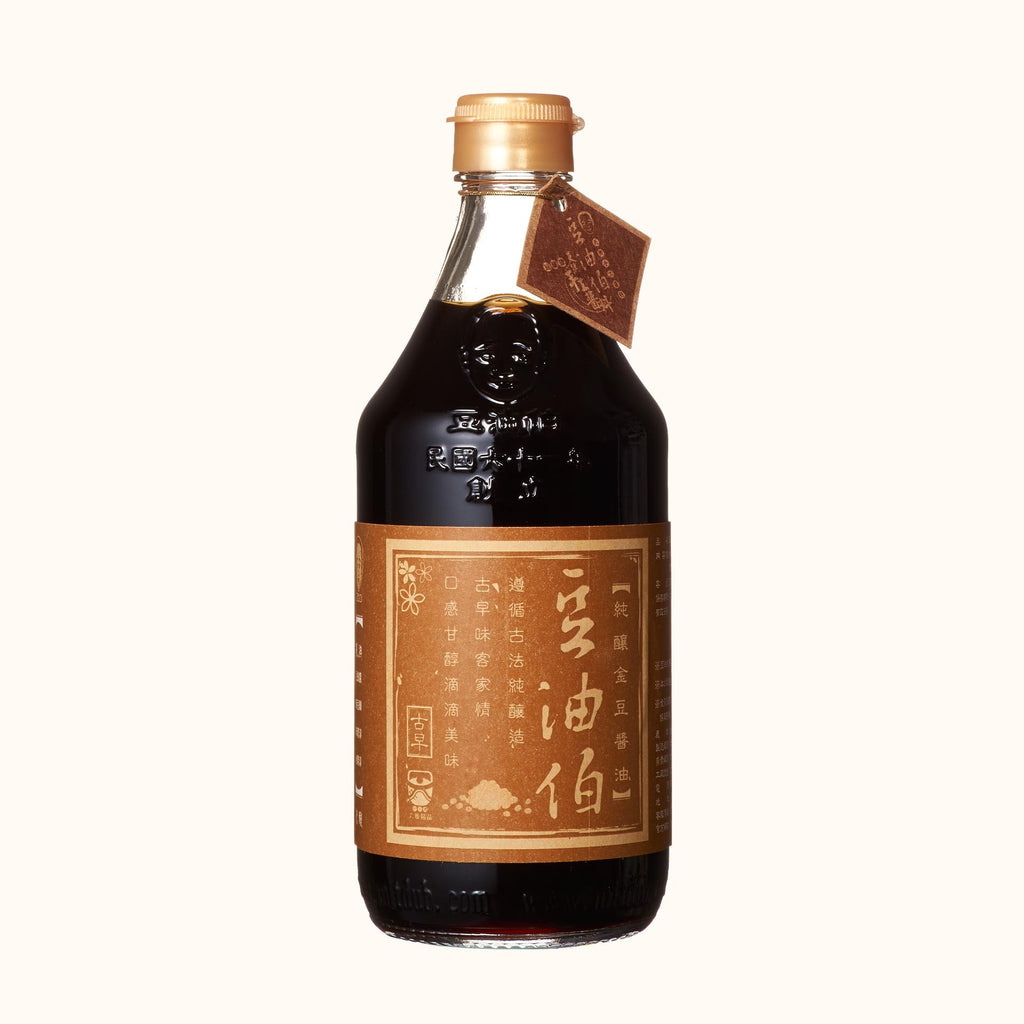 DYB Premium Artisan Naturally Brewed Soy Sauce 豆油伯金豆釀造醬油 500ml
---
豆油伯
屏東竹田鄉因為日照強、水質佳,這個位於南台灣的小小客庄鄉鎮,曾經聚集數十家的醬油工廠。
豆油伯李安田先生年輕時,進入當地最大醬油工廠工作,學習釀造及業務的能力,當時釀造的醬油口味偏於死鹹,李安田先生想釀造保有豆香原味的醬油,於是在1972年成立「原味醬園」,堅持遵循古法工序,在屏東竹田艷陽下釀造真正屬於臺灣人的天然純釀醬油。
懷抱對這塊土地的感恩與感動,豆油伯與台灣農民契作,從選豆、選地、選季節,以自然農法孕育出無毒、無農藥的100%非基改造黃豆、黑豆、有機小麥作為釀製的主原料,而為凝聚對家鄉的責任及情感,並堅持在故鄉屏東竹田釀製出屬於豆油伯的老味道。
Dou You Bo
Zhu Tian of Ping Dong is a very sunny area of Tainan.It is the town of soya sauce.
Founder Mr. Li An Tian started as a junior in big factory. In those days , monotonous hard core saltiness is the main stream style. Mr Li insisted soya sauce should be natural with original aroma of soya.So he started his own factory in 1972 clinging on old traditional style taking the best of adventure of the terroir of Ping Dong and made real soya sauce of Taiwan.
With full respect of the Mother Nature , Dou You Bo works closely together with local organic farmers to grow natural soya without any genetic engineered, nor chemicals and insists making soya with their own character.
品鑑 
完整原豆釀造,不使用脫脂豆片,原汁未稀釋。主原料:台灣黑豆、台灣非基改黃豆比例較高、台灣小麥。無麩質、不含碘,通過SGS多項檢測。沾食醬油推薦,清爽不死鹹,甘甜回甘。甘醇香甜,清爽美味。適用沾、炒、拌料理。
Tasting Notes
Brewed with whole bean, not skimmed soya. It is a  version of the original juice. without dilution. It is a blend of Taiwan black soya, higher proportion of yellow soya  and barley. Pure , sweet ,light bodied with natural aromas. Suitable for dipping, mixing , and stir fry . Gluten and iodine free and it passed the multiple SGS test.
---
Share this Product