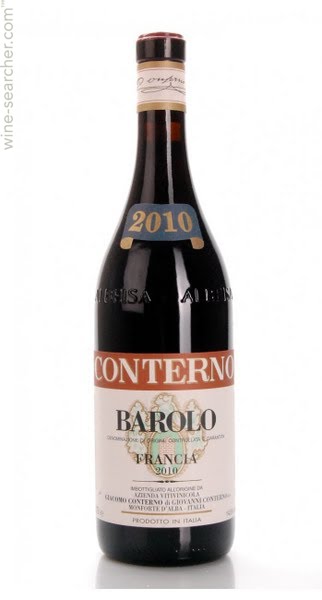 Giacomo Conterno Barolo Cascina Francia 2008 賈科莫.康特諾 巴羅洛 斯絲娜法西加 2008
---
Despite being one of the oldest Barolo producers dating back to 1761, Giacomo Borgogno is a producer to watch as the current generation of Cesare & Giorgio Borgogno take the domaine forward.
Located in the prized village of Barolo, their 20 hectare estate draw on vines from the surrounding crus of Cannubi, Liste (a monopole), Rue, Fossati & San Pietro. Vinification is essentially traditional, although more care is now taken to vinify parcel by parcel in small stainless-steel cuves to retain the fruit's integrity & to capture the terroir's identity. Elevage is in comparatively youthful Slavonian barrels.
Giacomo Borgogno are particularly famous for their library of older vintages, immaculately stored in their cellars. Indeed Borgogno must rate as one of the first to have bottled their Barolo, including the 1861 which was served at the official banquet celebrating Italian unity. 
賈科莫 康特諾
儘管是最古老的一個巴羅洛生產商(Barolo),其歷史可以追溯到1761年,詹姆斯.波歌尼(Giacomo Borgogno) 是當前的一代凱撒和喬治. 波歌尼之中 (Cesare & Giorgio Borgogno) 最值得注意的生產商, 帶其酒莊向前進發。
位於巴羅洛得獎的村落, 他們20公頃地區借助附近的福薩蒂和聖彼得 (crus of Cannubi, Liste (a monopole), Rue, Fossati & San Pietro ) 的藤蔓
釀造過程基本上是傳統方法, 雖然現在更多是照顧讓來釀造的包囊以包在小不銹鋼的特釀以保留了水果的完整性和擁有沃土的個性。
詹姆斯.波歌尼(Giacomo Borgogno)庫中的老年份酒釀是特別著名, 而儲藏在一塵不染的酒庫中.
事實上波歌尼的被評價為第一個將巴羅洛瓶裝, 包括這是曾在慶祝意大利統一的官方宴會上供應的1861佳釀。
Vintage 年份:
2008
Country of Origin 原產地:
Piedmont, Italy 意大利 皮埃蒙特
Varietal Grape 葡萄品種:
Nebbiolo 納比奧羅
Tasting Note 鑒賞:
The 2008 Barolo Cascina Francia possesses gorgeous inner perfume, layers of sublime fruit and fabulous overall balance. Plums, dark cherries and licorice are followed by darker notes of graphite and tar as the wine opens up in the glass. Today, the 2008 is much less expressive than it has been the many times I have tasted it from barrel. It will be interesting to see how the 2008 develops and whether it puts on weight or remains more of a mid-weight, gracious Barolo. Either way, it is fabulous. Anticipated maturity: 2018-2048. 
巴羅洛 斯絲娜法西加(Barolo Cascina Francia )擁有了未表達出來的絢麗芬芳, 有層次水果和酒釀的驚人平衡. 李子, 黑櫻桃和甘草接下來微少的黑石墨與焦油令玻璃杯裡的酒味散開. 今天, 這款2008年份的表現度更少於我在木桶裡嘗試無數次的酒釀. 事情會會有趣是看看這款2008怎樣發展及無論變了沉重, 還是一款中等重量而高雅的巴羅洛. 無論如何,這太棒了. 適飲年期 2018-2048
專家點評:
RP:95
---
Share this Product
---
More from this collection