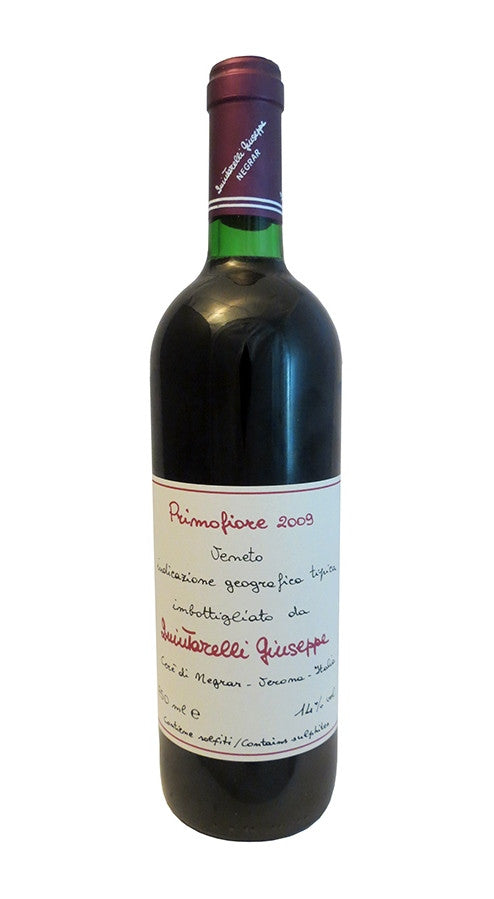 Giuseppe Quintarelli Primofiore 昆塔雷利酒庄比莫飛 2009
---
Quintarelli family has been producing wine for more than 100 years, first in an area called Figàri and then from 1924 in Negrar, the heart of the Valpolicella Classico area. Quintarelli is often regarded as Valpolicella's magician and the king of Amarone . Their approach is renowned to be strongly traditionalist with only a few concessions to modernity, they age their Amarone in Slavonian oak vats for seven years. Nevertheless, this "traditionalist" has undertaken several highly innovative winemaking projects, they began producing a white wine – something very unusual in the Valpolicella area. Then he crafted a delicious blend "Primofoire" which combines corvina, cabernet sauvignon and cabernet franc grapes. Finally, he invented the extremely rare and coveted Alzero which is made from slowly dried cabernet franc grapes. Their labels are beatifully handwritten, the Quintarelli name stands for the family, the wines, as style, a tradition, the authenticity and artisanal high quality wine. 
昆塔雷利(Quintarelli )家族已生產的葡萄酒超過100年,首先在(Figari) 菲加里區域然後從1924年在(Negrar ) 尼格拉. 經典維波利的中心地區, 昆塔雷利通常被認為是維波利的魔術師
和阿瑪羅尼( Amarone)的王者. 他們的做法是著名的強烈傳統主義者只有少數向現代化讓步. 用七年時候在斯拉沃尼亞橡木桶陳化它們的阿瑪羅尼.  不過, 這' 傳統主義' 的高度允諾了創新的釀酒​​項目, 而他們開始生產白葡萄酒. 在維波利地區是一個很特別的事情. 然後,他製作了一款結合了科維納, 赤霞珠和品麗珠的美味混合物 '比莫飛' ( Primofoire) . 最後,他發明了極為罕見和令人垂涎 的 '一零'  (Alzero) 是由乾品麗珠葡萄釀製出來. 他們的商標是美麗的手寫而昆塔雷利的名字代表家庭, 酒釀, 風格, 傳統, 真誠和高品質的手工葡萄酒。
Vintage 年份:
2009
Country of Origin 原產地:
Italy - Veneto 意大利- 威尼托
Varietal Grape 葡萄品種:
50% 科維納和科羅帝納, 50% 赤霞珠和品麗珠
50% Corvina veronese and Corvinone, 50% Cabernet Sauvignon and Franc

Tasting Note 鑒賞:
The 2009 Primofiore is a delightful wine that shows crisp lines and impressive focus. It is redolent of back fruit, cedar spice, root beer, dried rosemary and balsam herb. Dusty mineral notes bring up the rear. The wine is snappy and tonic with a very tight, fresh and expressive quality of fruit. Drink 2014-2018. 
這2009比莫飛 (Primofiore) 是款討人喜歡的葡萄酒顯示出了清晰線條和深刻的焦點。 這是濃烈的黑槳果, 雪松香料, 根汁汽水,乾迷迭香和 香脂草. 滿是礦物質的點滴殿後著. 活潑而振奮的酒釀是十分緊緻,新鮮和表達了水果的品質. 適飲期2014-2018. 
Critic's Rating 專家點評:
RP:89
---
Share this Product
---
More from this collection