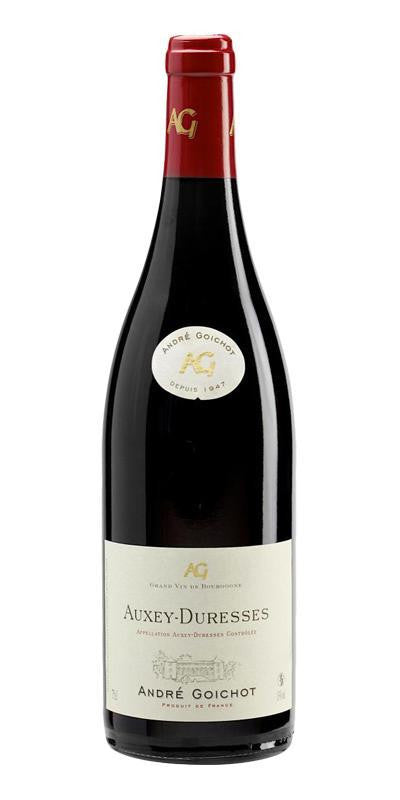 Maison Andre Goichot Auxey Duresses 2011
---
Andre Goichot
Founded in 1947 near Meursault, Maison GOICHOT is characterized by its family spirit. In 2000 she made a decisive step with the construction of a new site in Beaune. Modern, it combines high technology, productivity and aesthetics. While having a futuristic House, retains great respect for tradition. With relational André GOICHOT with many growers in the region, the wines of great quality are offered on a wide range of appellations: Chablis, Côte de Nuits, Côte de Beaune, Cote Chalonnaise. 
安德列.瑰芍
沿自1947年,坐落在梅素區,瑰芍酒莊以其家族精神弛名於世,2000年他們決定在布蒙丘區建設新場地,瑰芍揉合了現代元素生產及美學。既是一個未來主義,同時又尊重傳統的酒莊。除了梅素區,瑰芍家也為毗鄰以其他屋區監製葡萄酒,包括﹕莎比尼、夜之丘、布蒙丘及莎朗尼丘。每年瑰芍都獲獎無數,特別是梅素區。
Vintage 年份:
2011
Country of Origin 原產地:
Burgundy 布根地
Varietal Grape 葡萄品種:
Pinot Noir
Tasting Notes 品酒鑑賞:
Award winning wine of Confrerie des Chevaliers du Tastevin. A synergy of modern and traditional technique. Deep Ruby colour with good structure and balance. Very pleasant of the nose with reminiscent of plume , mulberry and young dates. Very subtle spices. Ideal with Cantonese dishes or ducks.
---
Share this Product
---
More from this collection