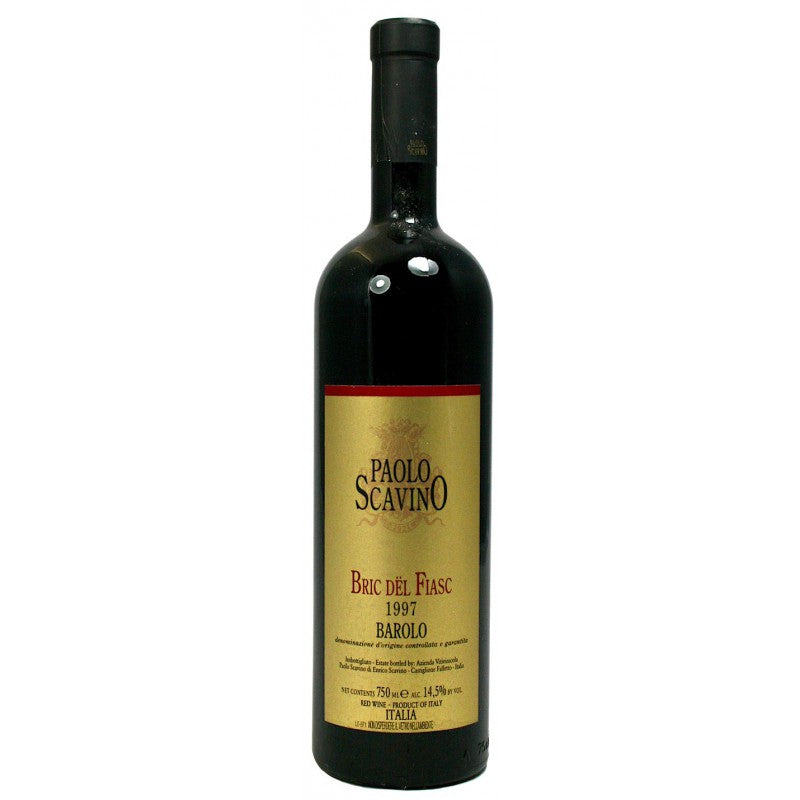 Paolo Scavino Barolo Bric Del Fiasc 1997 0.75
---
Paolo Scavino
Enrico Scavino is the 4th generation of Paolo Scavino founded in 1921.His daughters Elisa and Erica are helping him out in this historic family business. Enrico involve full time since he was 7 and he has now got 60 years of wine making experience .
Their work is inspired by the love and respect they have for their territory and they pursue purity of expression, complexity and elegance for their wines from the three local grapes Dolcetto, Barbera and Nebbiolo.
Paolo Scavino owns 29 hectares entirely in the Barolo area and works on 20 Barolo historical crus located in Castiglione Falletto, Barolo, La Morra, Novello, Serralunga d'Alba, Verduno and Roddi.
The Scavino family distinguishes itself from the beginning by their scrupulous care of the vineyards and passion for terroir. Their core beliefs is the supremacy of the viticulture above the oenology therefore the focus is the care of the vines in order to grow ripe and healthy grapes. In winemaking minimal and equal intervention are sought, to preserve natural diversities, terroir.
泡洛史卡維洛酒莊
安力寇史卡是創於1921年的史卡維洛酒莊的第四代當家;兩個女兒伊麗莎和安妮卡輔佐他打理這歷史悠久的家業。安力寇從7歲開始全職打理葡萄園,至今他已累積60年的釀酒經驗。
受到對故土的尊重和愛的啟發,他們對釀酒的追求是用本土葡萄 :多尺多、巴比拉和納比歐諾葡萄,演繹出風土、深度的結構和優雅。
史卡維洛在巴羅洛共有29傾葡萄園,20傾是傳統巴羅洛列級種植區:法拉多、拉摩拉、薩拉隆卡等等。
史卡維洛與眾不同之處,是他們對土地的熱愛,他們相信種植優先於釀製,所以焦點集中在照顧好葡萄,栽培好成熟、健康的果子;釀製過程中用最少的人為干預,保育物種多元化和呵護土地。
Vintage 年份:
1997
Country Origin 原產地: 
Piedmont , Italy
皮埃蒙特 - 義大利
Varietal Grape 葡萄品種:
100% Nebbiolo
100% 納比歐諾
In the Fiasco vineyard the Tortonian and Helvetian soils cross each other combining a great finesse and power. Classy and classic expression of Nebbiolo which requires time to develop all its complexity is Bric dël Fiasc®. The texture characterizes this Barolo: earthy imprint, density of fruit, vibrant and refined tannins. The acidity supports the important structure of this Barolo and lifts the nose which is complex, mineral, balsamic. Little red fruits and licorice are typical notes in Bric del Fiasc®.
1997 is a rich, profound, powerful Barolo with a great structure, made with very ripe grapes, due to the warm autumn. It is a vintage that will keep for a long time.
非阿思寇莊園是揉合了多多尼亞和哈維遜泥土的細膩和勁度.這配方最能表現納比歐諾葡萄的氣派和典型,並需要時間的沈澱來發展她的層次。泥土香,濃郁果香,活潑而細膩的單寧。酸度支撐了結構。香氣中有礦物和葡萄醋;輕輕的帶紅漿果和甘草。1997年份醇厚、濃郁和霸道,結構嚴謹、葡萄爛熟;窖藏潛力極高。
Critic's Rating 專家點評:
RP 95
---
Share this Product
---
More from this collection