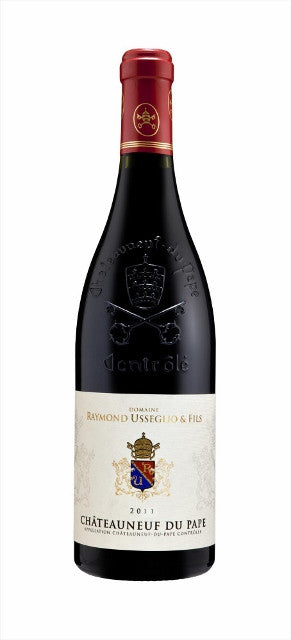 Raymond Usseglio Chateauneuf Du Pape Rouge Traditional 2017 雷蒙鄔釋格裡奧兄弟酒庄傳統教皇新堡紅
---
Raymond Usseglio
In 1931, an Italian Francis Usseglio left Italy and went to Chateauneuf du Pape in France. He started his own winery in 1948. Domaine Raymond Usseglio was found in 1963 by one of his son, Raymond Usseglio, who share a similar reputation of his brother, Pierre Usseglio. Since 1999, the Domaine has been running by Raymond's son, Stephane, who is in charge in the cellars and the vineyard. Traditional winemaking is now embroidered with new ideas, a little new oak, and laudable ambition. In 2012 the Domaine started conversion into agriculture biologique.
雷蒙鄔釋格里奧兄弟酒莊
1931年,意大利人法蘭西.鄔釋格里奧離開意大利前往法國教皇新堡地區,並於1948年建立自己的釀酒廠。雷蒙鄔釋格里奧兄弟酒莊由他其中一個兒子雷蒙於1963年成立,與他兄弟皮雅的酒莊齊名。雷門的兒子史提芬自1999年開始主理酒莊,管理酒窖及葡萄園。傳統釀酒法遇上新思維,混合新橡木桶及值得鼓勵的野心。2012年起,酒莊更開始改用有機方法種植葡萄。

Vintage 年份:
2017
Country Origin 原產地:
Chateauneuf Du Pape 教皇新堡

Varietal Grape 葡萄品種:
80%格納殊,20%慕懷特,施赫和神索和古諾瓦茲
80 % GRENACHE, 20% MOURVÈDRE, SYRAH CINSAULT & COUNOISE
Tasting Note 鑒賞:
As to the reds, the 2011s and 2012s are both solid, with the nod going to the 2012s. The 2011 Chateauneuf du Pape, which is comprised of 80% Grenache, 10% Mourvedre and the balance Syrah, Cinsault and other allowed varieties, displays quality black raspberry, spice, toast and licorice aromas and flavors to go with a medium-bodied, supple and straightforward palate. There's solid purity here and this workhorse-styled Chateauneuf should be consumed in its first decade of life.
和其他紅酒對比,2011年和2012年都是好葡萄酒的。 而所有這元素包括80%格納殊,10%慕懷特和施赫,神索等都是構成為2011年的教皇新堡的最佳品種,一個中等濃郁,柔順而直接的口感顯示它擁有優質的黑莓,香料,烤麵包和甘草的香味。這裡有良好的純度和這種主力風格的教皇新堡應該在十年裡享用。
Critic's Rating 專家點評:
Pt: not yet rated 未評
---
Share this Product
---
More from this collection