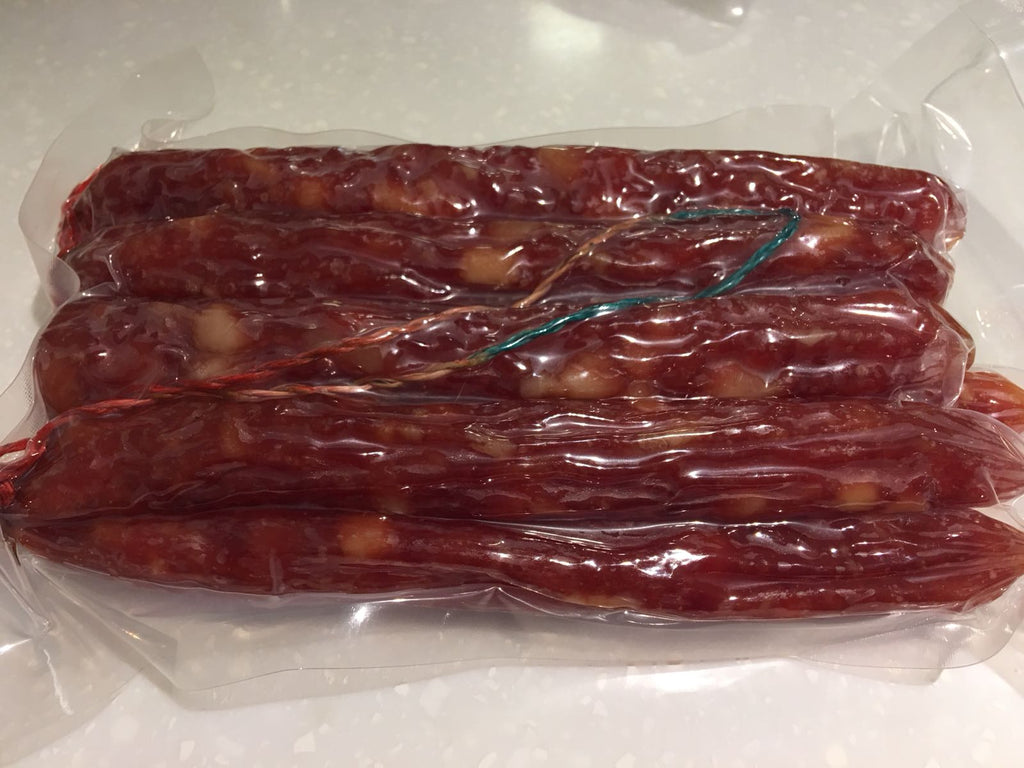 Rose Wine Pork Sausage 2021 譚師傅 臘味世家 特級玫瑰腸 500g
---
譚師傅是餐飲業一個勵志故事。年少失學從蓮香樓小工開始,一直爬升至半島嘉麟樓,後來下海從商做餐館物料供應,做得有聲有色。自家製臘味原先只是為了尋回兒時美味,沒想到一做快十多年了,成為業務分支。堅持天然生曬,上乘材料,即宰即造,不含添加。


玫瑰精肉腸。肥瘦適中,瘦肉軟而鬆化。
如果你覺得衣波力哥火腿、挫力疏腸和莎樂美腸比廣東臘味好吃,很可能你還未吃過譚哥的臘味了!

沒北風、即收工。錯過這季就得等下年了!
Master Chef Tan is an inspirational story in restaurant industry. When he was young and dropped out of school, he started as an apprentice in Lianxiang Lou dim sum restaurant, and climbed all his way to the Spring Moon, Peninsula. Then started his business venture of restaurant supplies and developed well. The homemade cured meat project was originally just for retrieving the deliciousness of childhood, but he did not expect it to become a branch of the business after ten years of manufacturing.
Adhere to natural raw drying, high-quality materials, ready to be slaughtered, no additives.


Rose Meat sausage's fat is moderate, the lean meat is soft and loose. High proof Rose Wine is used hence shelf life is longer.


Like last year, regardless of cost, it aims to pay back to fans and never increase prices.
If you think Iberico ham, Chorizo and Salami are better than Cantonese cured meat, most probably you haven't tasted Tan's cured meat before!
When Northerly wind cease, work will be closed. If you miss this season, you have to wait for next year!
---
Share this Product