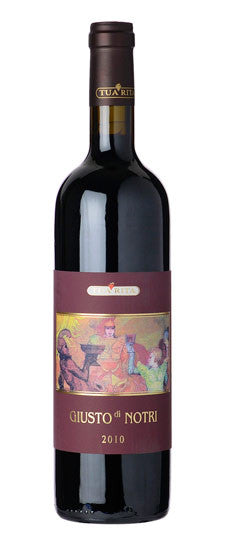 Tua Rita Giusto di Notri 圖麗塔酒庄 叢林之寶 2003
---
When in 1984 Rita and Virgilio purchased the property that was to become Tua Rita, the land and the buildings on it were only to be the setting for a life together lived in contact with nature, farming nature's bounty. It was their overwhelming passion for making wine that changed those plans. 
The couple tended the original two hectares of vineyard with such scrupulous care that Tua Rita became one of Italy's first successful producers of vins de garage. In barely a decade, the hectares under vine had risen to nine, at the start of the new millennium there were twenty and today Tua Rita farms some thirty hectares planted to vine. 
麗塔(Rita )和維吉爾 (Virgilio)購入這物業是成為圖麗塔酒莊, 而這裡土地和建築物只是設置一個生活的環境興大自然聯繫一起, 耕種在大自然的恩賜上.  這就是他們擁有無法抵擋的激情而用於製造酒的計劃上. 
這對夫妻傾向於用這種嚴謹的護理在原來的兩公頃的葡萄園裡, 圖麗塔酒莊成為意大利的首個成功生產'車房酒' (俗稱山寨, 或土炮, 不具正式規模生產出來的酒) 的生產商之一
在僅僅十年,該公頃的葡萄藤成長到九條. 直至到新千年的開始已有二十條 , 而今天圖麗塔酒莊種植的葡萄藤用地約三十公頃。
Vintage 年份:
2003
Country Origin 原產地:
Tuscany – Italy 意大利-托斯卡納
Varietal Grape 葡萄品種:

60% Cabernet Sauvignon, 30% Merlot, 10% Cabernet Franc
60% 赤霞珠, 30% 美樂, 10% 品麗珠
鑒賞:
The 2003 Giusto di Notri shows similar heft and determination with a more evolved and slightly more sophisticated bouquet. There is a lot of black fruit at the start with background tones of dark mineral, tobacco and spice. The delivery is robust and fleshy at the same time. Anticipated maturity: 2015-2030. 
這款2003圖麗塔酒莊叢林之寶顯示了相似的分量和果斷的一個更進化而稍微有內涵的花束. 在開始有很多黑槳果與沉醇的礦物質, 煙草和香料. 這釀與此同時遞上強烈而豐滿的口感
---
Share this Product
---
More from this collection