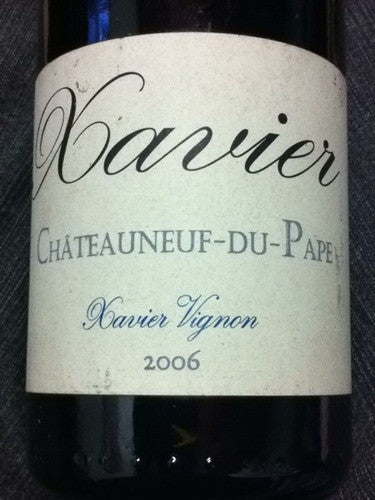 Xavier Vins Chateauneuf Du Pape 2006 夏維雅酒莊 教皇新堡紅
---
For the last 15 years, oenologist Xavier Vignon has become internationally known for being the winemaker of several of the best domaines in Châteauneuf-du-Pape and around. In 2002, he chose amongst the best wines he has made, he created a blend Rhône with different vintages, and different appellations. His ideal wine is, easy to understand, modern, powerful and a great value for money. 100% Xavier was born.
Xavier is indeed a flying wine maker who has consulted many famous producers in cote Du Rhone and Languedoc such as Marcoux (98 points), La Nerthe (95), Mordoree (98) and Grand Veneur. As Xavier Vignon wishes to keep his main work, which is managing his laboratory, he associates with two partners in 2007, in order to be able to develop his "Xavier wines".
夏維雅酒莊
十五年來,釀酒師夏維雅.威儂釀制教皇新堡及其周邊地區,以美酒在國際酒壇上嶄露頭角。在2002年建立了自己品牌,用他精選各條村的極品葡陶,拼配出隆尼谷河各區的美酒。他的理念是易懂,現代風格強而有力,性價比高,繼而誕生了100%的標籤。
夏維雅.威儂是一位「飛天釀酒師」,亦即是受聘全世界南北半球各個莊園的顧問釀酒師。隆尼河谷種植生產局就由他擔當顧問,包括馬可酒莊(98分)、娜納芙(95分)、莫多利(98分)以及維尼。夏維雅.威儂希望可以保持他主要工作,繼續管理他的研究所,所以於2007年他聯同兩位拍檔,去發展他的「夏維雅酒」。
Vintage 年份:
2006
Country Origin 原產地:
Rhone Valley - France
隆尼河谷 旺圖山 - 法國
Varietal Grape 葡萄品種:
Grenache (55%), Mourvèdre (35%) Syrah (10%) 
格納殊(55%),慕懷特(35%),施赫(10%)
Vinification:
釀造過程:
Our philosophy of wine production is generally the same: First of all we take a lot of care choosing the date of harvest, with daily analysis of grapes to avoid not perfectly ripe grapes, therefore no "green" defect in our wines. In a "normal" vintage, eraflage is systematic. A first extraction of the tannins of dandruff takes place during a small week, in controlled temperature (around 10°C / 50°F), before fermentation, for silky and elegant tannins. Then the second extraction, with presence of alcohol, lasts 3 - 4 weeks. Finally, Most of syrah and mourvedre were raised in french oak casks (1/3 new, 1/3 of one wine, 1/3 of two wines), grenaches in wooden conic tank, which allows to mark them lightly and soften up the existent tannins of very ripe grapes.
我們的葡萄酒生產 理念是大致相同 首先,我們需要了很大的功夫選擇收割的日期 與經常分析葡萄以避免不完全成熟的葡萄. 因此,我們的葡萄酒沒有"綠色"的缺陷.
在"正常"葡萄酒, 幹莖是系統的. 首先在一個小的周期提練單寧的皮屑, 在發酵作用前對於柔滑和優雅的單寧作一個溫度的控制(約10℃/50°F), 然後用存在著的酒精進行第二次萃取, 為期3 - 4週. 最後,大多數施赫和慕懷特在法國的橡木桶中提出( 1/3新,1/3一種酒,1/3兩種酒)而格納殊在木製錐形槽, 這使得可以輕輕將它們標記和軟化存在而成熟的單寧
---
Share this Product
---
More from this collection