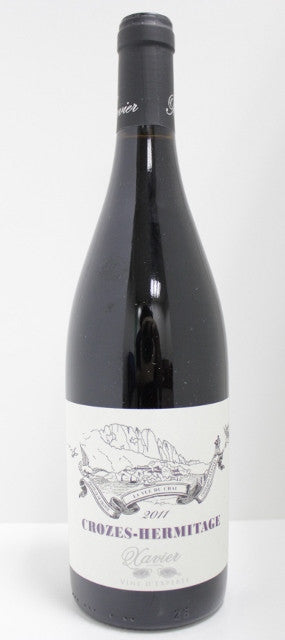 Xavier Vins Crozes Hermitage 2011 夏維雅酒莊 歌羅斯 艾米塔茲
---
Xavier Vins
For the last 15 years, oenologist Xavier Vignon has become internationally known for being the winemaker of several of the best domaines in Châteauneuf-du-Pape and around. In 2002, he chose amongst the best wines he has made, he created a blend Rhône with different vintages, and different appellations. His ideal wine is, easy to understand, modern, powerful and a great value for money. 100% Xavier was born.
Xavier is indeed a flying wine maker who has consulted many famous producers in cote Du Rhone and Languedoc such as Marcoux (98 points), La Nerthe (95), Mordoree (98) and Grand Veneur. As Xavier Vignon wishes to keep his main work, which is managing his laboratory, he associates with two partners in 2007, in order to be able to develop his "Xavier wines".
夏維雅酒莊
十五年來,釀酒師夏維雅.威儂釀制教皇新堡及其周邊地區,以美酒在國際酒壇上嶄露頭角。在2002年建立了自己品牌,用他精選各條村的極品葡陶,拼配出隆尼谷河各區的美酒。他的理念是易懂,現代風格強而有力,性價比高,繼而誕生了100%的標籤。
夏維雅.威儂是一位「飛天釀酒師」,亦即是受聘全世界南北半球各個莊園的顧問釀酒師。隆尼河谷種植生產局就由他擔當顧問,包括馬可酒莊(98分)、娜納芙(95分)、莫多利(98分)以及維尼。夏維雅.威儂希望可以保持他主要工作,繼續管理他的研究所,所以於2007年他聯同兩位拍檔,去發展他的「夏維雅酒」。
Vintage年份:
2011
Country Origin 原產地:
Rhone Valley 隆尼河谷
Varietal Grape 葡萄品種:
100% Syrah originating from old vines
100%施赫原產於老葡萄樹
Tasting Note 鑒賞:
The nose reveals elegant floral aromas including violets as well as black fruits, liquorice and subtle spicy hints. The barrel ageing bring some discreet and elegant notes of vanilla and smoke.  In the mouth, the attack is fresh while the mid palate remains round and generous. This wines shows a nice balance with a good acidity. Good length with floral aromas.
這佳釀散發著高雅的花香包括紫羅蘭和黑漿果味,還有一絲絲甘草和細膩含蓄的香料氣息。木桶中的陳化為佳釀增添了優雅和緊緻的煙薰和香子蘭。在口中,第一個感覺是香氣襲人,中段顯得圓潤大方,這佳釀平衡而且酸度良好,餘韻綿長得來還帶陣陣花香。
---
Share this Product
---
More from this collection